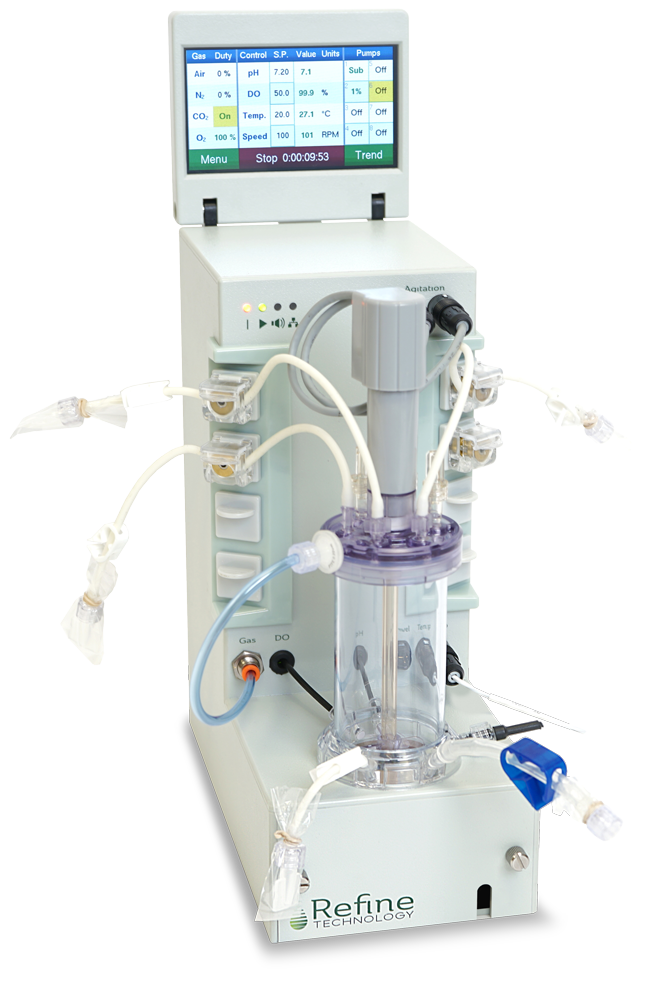 On board touch screen control
Available with flexible configuration of up to 8 pumps
Single use vessel with customizable headplate
Bottom port for sampling or connection to cell concentration device
Aeration through sparger in impeller shaft

The CORe™ (Culture Optimization Reactor) is a complete stand-alone mini bioreactor with the capabilities of larger systems. The convenient on-board controls and touch screen display eliminates the need for a bulky external controller, saving valuable bench space and facilitates portability. The unit can be operated on a bench, in a laminar flow hood, or even on a desk. The CORe™ System is offered with USB Data Logging and both Ethernet and OPC UA compatibility. Additionally, the miniaturized nature of the system offers cost savings in the form of media, supplements and accessory usage.
The Single-Use gamma sterilized disposable bioreactor vessel offers a working capacity of 35-100ml which allows significant savings in media costs without compromising performance. Sensors for temperature, pH and DO are all "in wall," minimizing contamination risks and interference from inserts. The only insertion is the impeller and shaft which also contains the sparger for addition of O2, CO2, N2 and air. Various impeller and sparger designs may be custom ordered to fit specific user requirements.
The CORe™ System includes four peristaltic pumps standard (with an option of up to eight pumps) for flexible media handling. Sampling can be performed from both top and bottom ports which facilitate access to and from the vessel. The vessel also provides a convenient connection to any cell concentration device.
Culture Optimization Reactor – A mini bioreactor with the capabilities of larger systems, with a much lower operating cost and footprint
Customizable single-use bioreactor vessel, free of interfering inserts and probes
Quick and easy set-up
Operational control driven through on-board interface
Multiple pump options allow high level of operational control and experimental flexibility
Ideal for stem cell research and development, including cell and tissue culture and excellent for educational applications

Supports batch, fed batch and continuous culture applications
Reduced media consumption
Single-use culture vessel, presterilized and ready to use
Non-intrusive sensors for pH, DO, Level and Temperature
Compact, lightweight and portable
Easily moved from bench to laminar flow safety hood
Touch-screen user interface
Customizable options:

configurable vessel ports
pumps arrangement
gas addition options
impeller configuration

Data acquisition through USB and Ethernet
OPC UA compatible
Research and Development
Process Development
Seed Development
Stem cell and tissue culture
Educational Applications
Supports batch, fed batch and continuous culture applications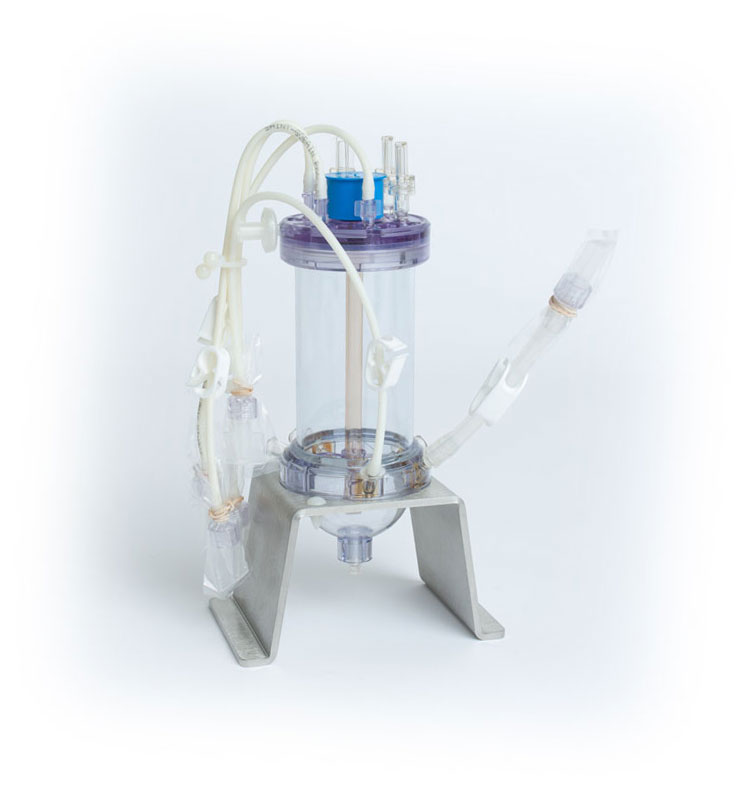 Single Use Bioreactor with configurable head plate port design for experimental flexibility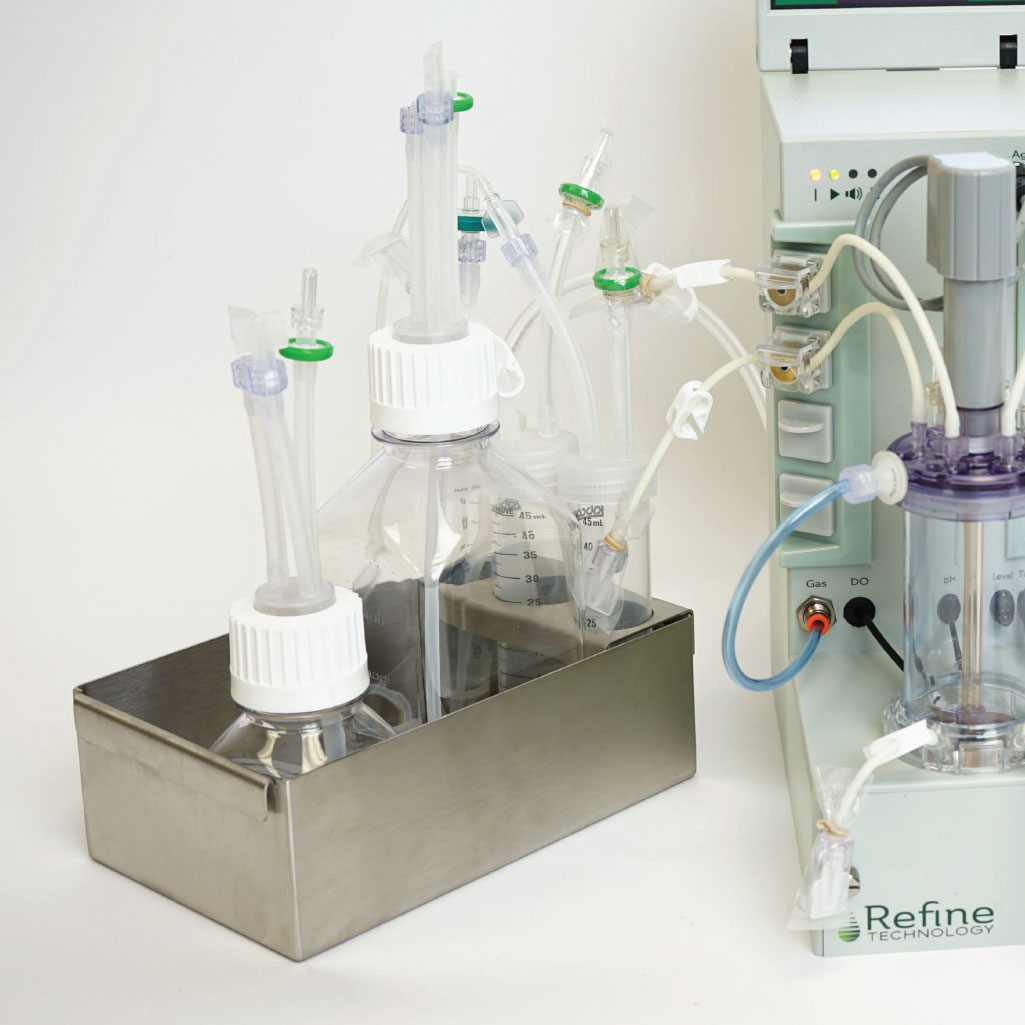 Manage nutrient addition and subtraction with up to 8 pumps (optional configurations)
CHO cell growth in the CORe™ System was compared to batch growth in a "T-75" flask. In all cases the cultures were similarly grown in CDM4CHO. The CORe continuous culture feed rate (0.5-1.5 VV/D) was maintained with a filtration based cell separation device. Start Concentrations [Cellx106]: CORe Continuous [0.29], CORe Batch [0.12], T-75 [0.51].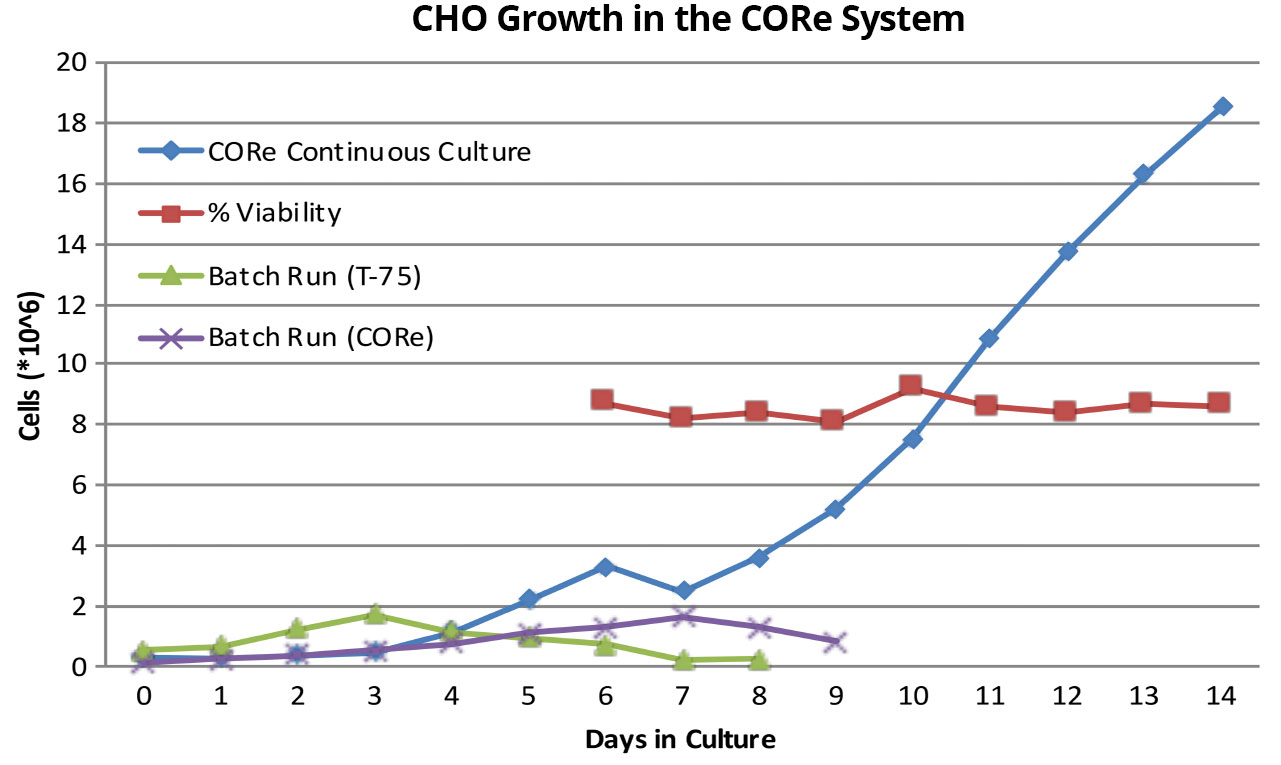 Size:
4.2 x 8.0 x 13.3 in (10.6 x 20.3 x 34 cm)
Weight:
2.5 lbs (1.14kg)
Power:
100 to 240 volts, 50 to 60 Hz
Access Ports:
8 standard (6 on headplate, 2 on vessel skirt)
Pumps:
4 standard, option for 8
Four gas control:
CO2, O2, N2, Air
Vessel Working Volume:
35 to 100mL
Temperature Control:
+/- 0.20˚ C
pH:
optical sensor, range 5.5 – 8.5
Dissolved Oxygen (% Air Sat.):
optical sensor, set range 0–100%
Agitation:
10 to 300 RPM (customizable)
Data:
USB, Ethernet, OPC UA compatible