Refine Technology to showcase new CORe™ Mini BioReactor System and CleanLine™ 1.5" Single Use Connector at Virtual BioProcess International Sept 28-30th, 2021.
New product offers a cost effective and bench space saving option for many cell culture applications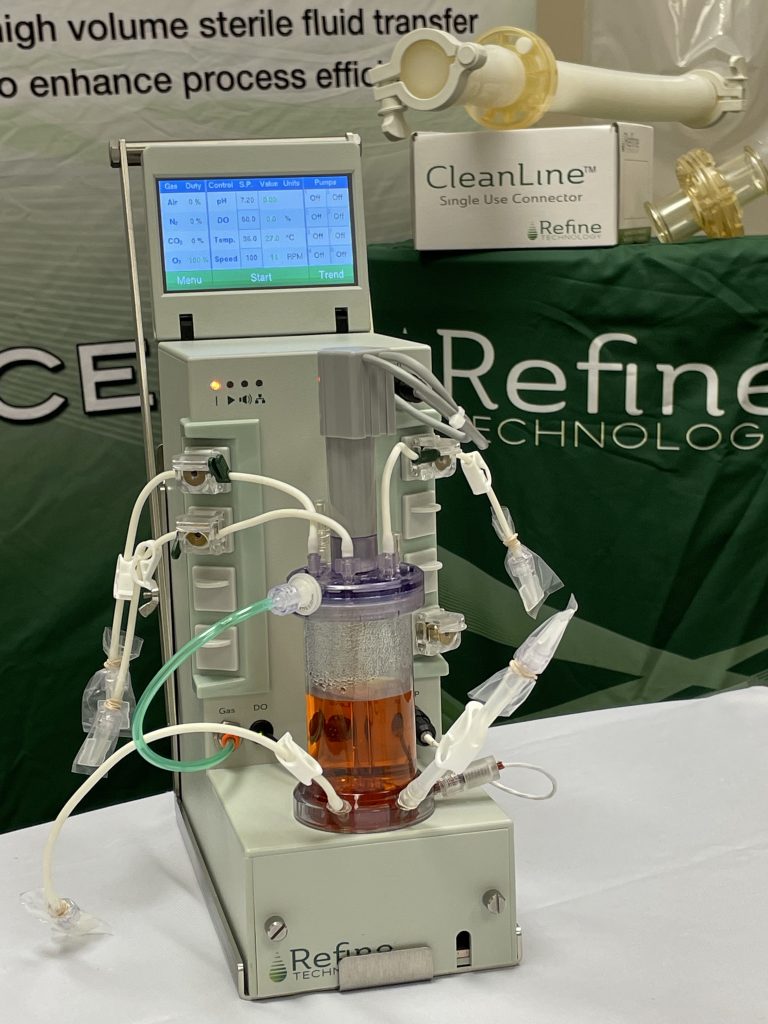 Pine Brook, NJ – September 28, 2021. Refine Technology, LLC, most known for developing the award winning ATF™ System for cell culture perfusion, will be promoting its new CORe™ Mini BioReactor System and the CleanLine™ 1.5" Single Use Connector at the BioProcess International Virtual Conference 2021 .
The CORe™ Mini Bioreactor System is a compact device, has all of the features and performance of larger bioreactors, without compromising on bench space or budget. Either suspension or adherent cells may be cultured with the CORe™ System, with applications in the fields of R&D, Process Development, personalized medicine, and stem cell culture applications. The compact size and single use, "plug and play", nature of the bioreactor provides an efficient process not seen in other cell culture systems. With global cell culture experts in attendance, BPI is an ideal setting for us to promote this new technology.
The CORe™ Mini BioReactor System is designed for use with pre-sterilized, Single-Use culture vessels, (Vol. 30-100ml). The disposable culture vessel is provided with non-contact pH, Dissolved Oxygen, Temperature and Level sensors. The system accommodates up to eight peristaltic pumps, offers four gas control as well as a variety of vessel configurations for making additions, subtractions, sampling, perfusion and other adaptations customized to your needs. The miniaturized nature of the system greatly reduces bench space requirements; arranged and sterile nature of the system greatly reduces set-up time and increases its reliability; furthermore, the small working culture volume significantly reduces the requirement for media and other costly reagents.
The CleanLine™ 1.5" Single Use Connector is a genderless aseptic connector used for high volume sterile fluid transfer designed to enhance process efficiency. In many fluid transfer cases, a limiting factor is the time it takes to move fluid from one area of the process to another. Whether in a single use system or a hybrid stainless steel to single use application where larger connection ports are more common, rapid fluid transfer through larger hose can provide a tremendous time savings for these critical processes. Refine Technology's CleanLine™ 1.5″ Connector and custom hose assemblies provide simpler sterile set-up and operational efficiency with higher flow rates than traditionally smaller single use connections.
About Refine Technology, LLC; Pine Brook, NJ: Refine Technology is based in Pine Brook, NJ and was founded in 1999 with a vision to develop and bring to market products in the field of animal cell culture. Following the successful sale of its award winning ATF™ system for cell perfusion product, Refine Technology has been developing innovative technologies for the bioprocess and cell culture market that address unmet needs and inefficiencies. Further information may be found at: www.refinetech.com